Cast Iron Cooking Demonstration and Participation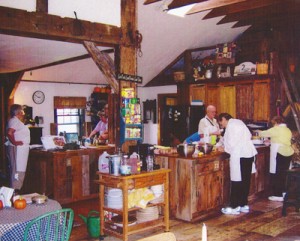 Using cast iron cookware, observe and learn by hands on participation, to create recipes from the 1700's. Dine in a 1700's Historic Farmhouse. Sit down to a snack or a full meal. Take your skills and the recipes home. Children may participate if accompanied by adult. Choose from each of the food groups. All participants will dine family style sharing the same menu.
ENTREES:
Salmon with Fresh Mint & Tomatoes
Pork Medallions with Oatmeal Stout
Chicken Madeira
Peppery Roast Tenderloin of Beef w/ Tarragon Sauce (extra $15 pp.)
Pecan Crusted, Honey Glazed Roasted Duckling
SIDE DISHES (pick 2):
Pan seared Cucumbers with Butter Pecans
Herbed Cherry Tomatoes with Black Olives
Braised Romaine with Brown Butter and Fennel Seeds
Buttery Yorkshire Pudding
Wild Rice Stuffing with Toasted Pine Nuts
Skillet Baked Corn Bread with Butter & Honey*
Peach or Raisin or Cranberry& Pecan Scones*
Blueberry Muffins*
DESSERTS:
Caramelized Sugar Pear Flan*
Apple Fig Crumble*
Walnut Crusted Apple Cranberry Pie*
Vanilla, Chocolate or Hazelnut Cheese Cake
BEVERAGES:
Cider, Coffee or tea
FEES
Reservation only.
Day Visitors (4 people minimum, 10 maximum)
SNACK* (bread or dessert with beverage) 2 hrs $35 pp. plus tax & gratuities.
FULL MEAL 4 hours $65 pp plus tax & gratuities.
Overnight Visitors (4 person minimum, 8 person maximum)
Dinner & Breakfast $160 pp. plus tax & gratuities
(Bring your own wine or beer)
Reservations
For reservations and to design your special vacation call Virginia at:
401-567-0354