Virginia Sindelar, Artistic Director, David Bernat, Associate Artistic Director
Sunday, September 12 at 2 p.m.- Yunwen Chen, cello and Jiarong Li, piano
Music at the Farm concerts presents the brilliant young cellist Yunwen Chen with Jiarong Li on piano.  They will play works by Beethoven, Piazzolla, Bach and Boccherini.
Tickets are $30. For reservations call 401-567-0354.
Music at the Farm concerts are produced by Artistic director Virginia Sindelar and are  sponsored by Grace Note Farm and the Blackstone Valley Tourism Council.
Yunwen Chen, recently graduated from the New England Conservatory, holds a Master's Degree and Graduate Diploma under the guidance of Paul Katz.  Born in Nanjing, China, she is the first musician in the family and her passion for music led her to study in the U.S. at age 16. She won awards in Fischoff Chamber Music Competition and NEC Tecchler-Forster Cello Competition. Two of her chamber music groups, trio "Gruppetto" and trio "Sol" were selected as NEC Honors Ensembles and gave recitals in Jordan Hall.
 This past summer, Yunwen returned to the Yellow Barn festival where she collaborated with musicians from around the globe, including Donald Weilerstein, Katherine Murdock, Anthony Marwood, and Stephen Stirling. 
Yunwen is currently playing a cello made by Carlo Ferdinando Landolfi in the year 1771.

October 10 – Berit Strong Lute, Aldo Abreu recorders
November 14 – Paulis Pancekauskas, Solo Piano
December 12 – Kelly Hollis, soprano & David Rivera Bozon, tenor
If you are unable to attend but would like to support our concert series please donate :
gracenotefarm@gmail.com to either Venmo or Paypal 
or mail a check to:
Grace Note Farm
969 Jackson Schoolhouse Rd.
Pascoag, RI 02859
True to its Historic Roots
Grace Note Farm, also known as the Benjamin Smith homestead farm c. 1730, is nestled in the northwest corner of Rhode Island adjacent to the George Washington Management area.
Catering to Equestrians
Riders can enjoy over six hours of riding on wide, mostly sandy trails that connect to Connecticut and Massachusetts. Trails wind through a covered bridge, hemlock grove and pass picturesque lakes and streams. You can ride alone on the well marked trails, or join a guide. Over 25 miles are safe for carriages.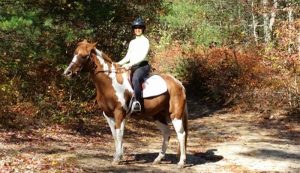 Guests bring their own horses and can stay one or more nights on their own or in groups of up to 8 people. The stalls are airy and there is plenty of turnout in the rolling pastures or corrals surrounding the farm. Grace Note Farm welcomes group rides, and offers breakfast or lunch. The farm hosts parties for horse enthusiasts.
Activities in CT, MA, and RI are Near
Nearby activities include massage therapy for horse and rider, and private or group lessons in the outdoor ring. Mountain biking, hiking, swimming, fishing, canoeing, cross-country skiing are all permitted in the adjacent state park. Enjoy visits to Southwick Zoo (Mendon, Ma); Worcester Art Museum (Worcester, Ma); and the over thirty antique stores in Putnam, CT.
Recommended by the Blackstone Valley Tourism Council
Email: bvtourism@aol.com or call 401-724-2200