Virginia Sindelar, Artistic Director, David Bernat, Associate Artistic Director
Season Six – Spring 2023 
---
Concerts start at 2 PM. TICKETS are $30.
For reservations call 401-567-0354.
---
March 12 – 2 PM
Celebrate Family with brother and sister duo
David Bernat, violin

& Nina Bernat, double bass
Teleman Methodical Sonata
Schuman 5 Pieces in Folk Style
Ravel Tzigane – Bach C Major violin Sonata mvts. 3,4 
Panderecki Duo Concertante – Bottesini Gran Duo.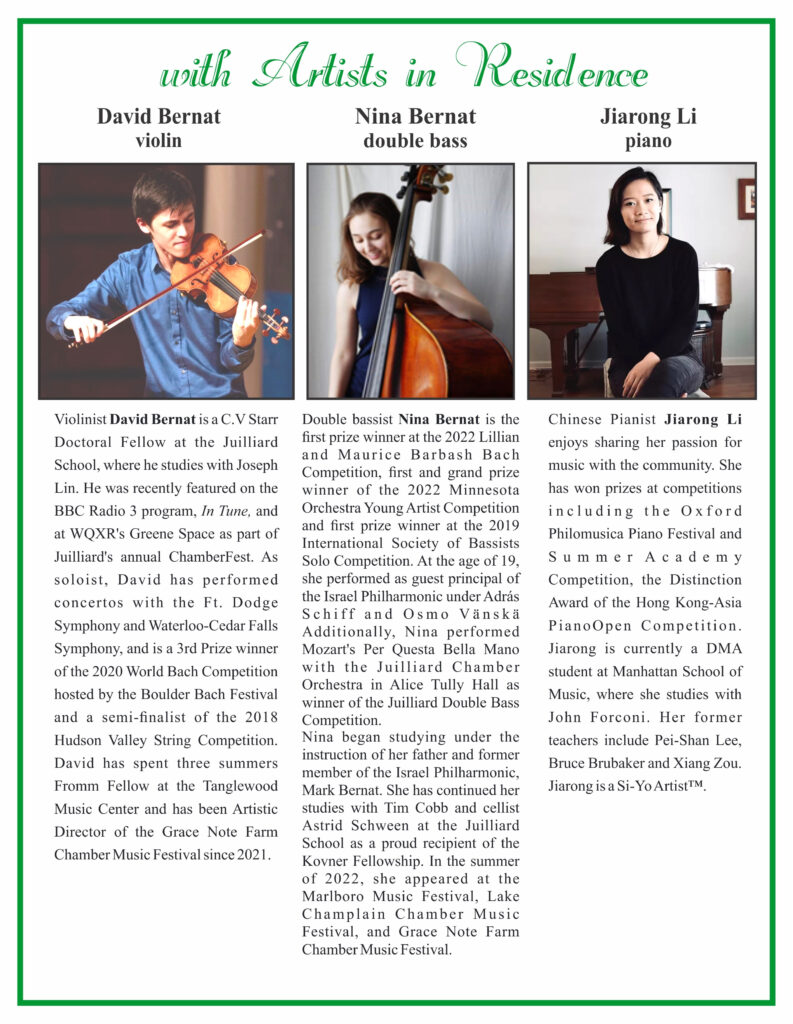 ---
Concerts start at 2 PM. TICKETS are $30.
For reservations call 401-567-0354.
---
April 16 – 2 PM
David Rivera Bozon, tenor & Elias Dagher, piano
Aprile, Marecchiare, L'alba separa dalla luce l'ombra by Paolo Tosti         
Beethoven's  9 Symphony tenor solo 
 Au mont d´Ida from La Belle Heléne by Jacques Offenbach  
Je ne sais si je veille from Wertheby Massenet
 Recondita Armonia from Tosca by  Verdi 
 3 Songs of love Op 3. by Roger Quilter
 2 Songs Op. 3 by Alberto Ginastera (Argentina)
Tu pupila es azul by Roberto Pineda Duque
Colombia tierra querida by Lucho Bermudez       
Two piano solos by Komitas (Armenian)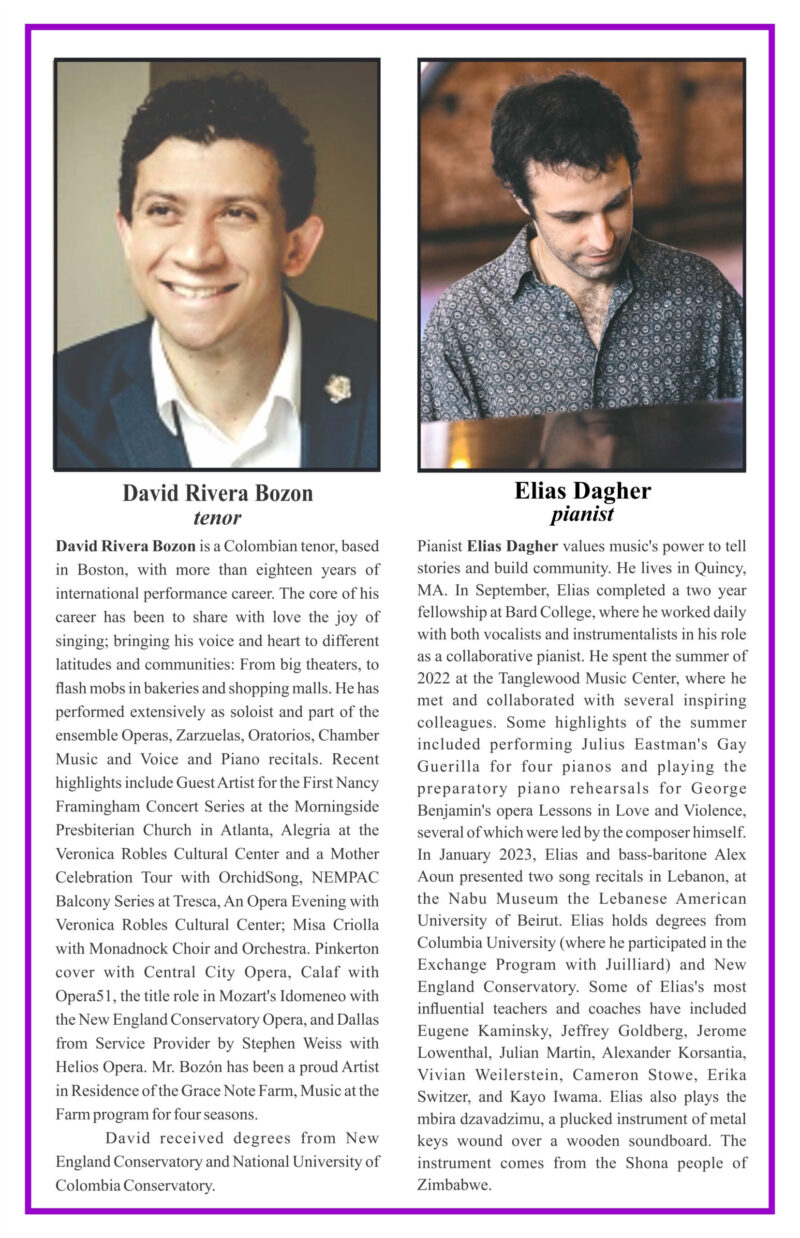 ---
Concerts start at 2 PM. TICKETS are $30.
For reservations call 401-567-0354.
---
Mother's Day,

May 14  – 2pm
Artists in Residence
Benjamin Britten Cello Sonata Op. 65 1961
Frederic Chopin Sonata for cello and piano in g minor Op. 65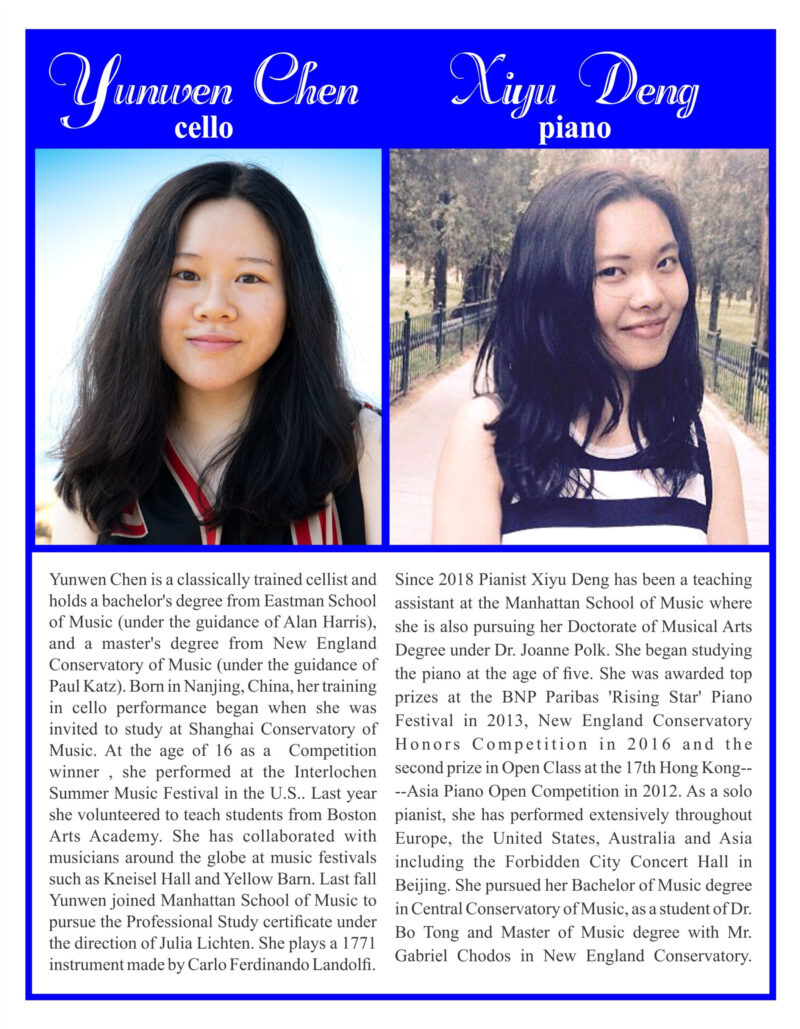 ---
June 3, 4, 10, 11
Grace Note Farm Chamber Music Festival
David Bernat, Artistic director
Welcome to our newest artist, flutist Anthony Trionfo,
who will perform September 10th with pianist Albert Cano Smit. 
---
August 13
Emma Robertson, soprano 
---
September 10
Anthony Trionfo, flute with Albert Cano Smit, piano 
 play Widor Suite, Copland Duo, Mozart Sonata in F Major k.377 (374e), Prokofieff Sonata in D Op. 94 Briccaldi Duo Concertante Op. 100 No. 2, Kennan Night Soliloquy
---
October 8
Yunwen Chen, cello with Xiyu Deng, piano Benjamin

 
---
November 12
David Bernat Violin
---
December 10
David Rivera Bozon, tenor




Emma Robertson, soprano




Elias Dagher, piano
---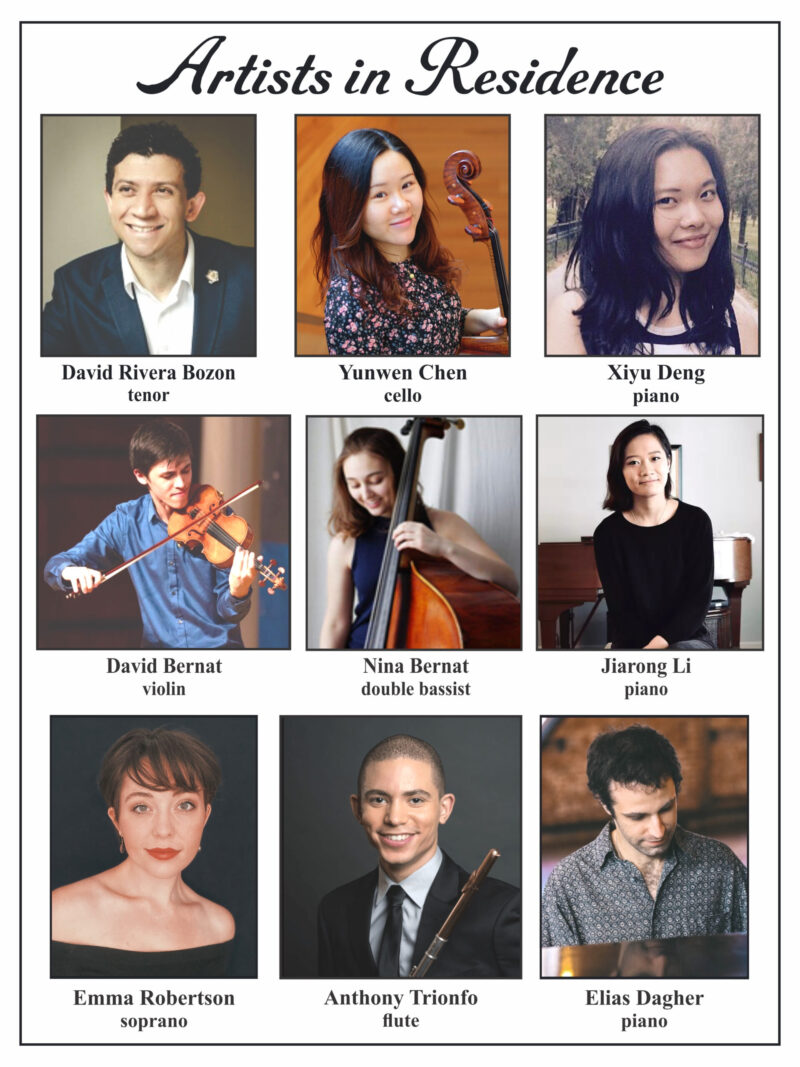 All proceeds go to the artists.    
gift ticket available
These concerts are presented by Grace Note Farm and the Blackstone Valley Tourism Council. Grace Note Farm, an original homestead farm of Pascoag from the 1700's, has since 1994 been preserved and fashioned into a horse farm and 2001 a B&B. The concert series Music at the Farm began in 2018 and is now in its fifth season. 
Weather permitting, audience members can walk the picturesque farm trails, bring a picnic lunch and view the farm animals prior to the concert.  All proceeds go to the artists.
DONATIONS WELCOME!
If you are unable to attend but would like to support our concert series please donate :
[email protected] to either Venmo or Paypal 
or mail a check to:
Grace Note Farm
969 Jackson Schoolhouse Rd.
Pascoag, RI 02859
About Artistic Director Virginia Sindelar
Since 1994 Ms. Sindelar made her home in Pascoag, Rhode Island where she taught for many years, pursued equestrian activities, built her horse farm, and historic inn business (Grace Note Farm Inn). In 2018 she began the new concert series Music at the Farm with the goal of furthering the careers of  brilliant young artists. 
As a Flutist, Virginia made her solo debut at the age of twelve with the Chicago Symphony String Ensemble. A pupil of Julius Baker at the Juilliard School, she earned both BA and MS degrees, and was presented the Three Arts Award in recognition of her outstanding performance. A Fromm Fellow at Tanglewood for three summers, she also taught in the Boston University Tanglewood Institute and appeared as soloist with the Berkshire Festival Orchestra under the direction of Gunter Schuller. Ms. Sindelar has toured both North and South America presenting concerts and master classes. Under the management of Albert Kay Associates, NY she performed at the Seoul Arts Center as guest of the Korean government.
As founder and Artistic Director of the Scarborough Chamber Players, she commissioned new works, presented classical, historic, and multi-cultural series, received National Endowment for the Arts and Arts Lottery funding to bring multicultural programs to the public schools of Massachusetts and served as consultant to other organizations interested in promoting and presenting the performing arts . She has produced and hosted numerous performing arts programs for Continental Cablevision of Cambridge , MA. which were distributed across the country. She was artistic  coordinator for both Quincy's first First Night (1993) and the Randolph Peace Committee 1994 Peace Begins with Me celebration in Massachusetts.
Ms. Sindelar has recorded works by Mauro Giuliani and Music of the Romantic Era for flute and guitar on the Centaur and Titanic labels. She  was Adjunct Professor at Lowell University, Clark University and  Eastern Nazarene College, and also taught at , Milton Academy, Bowdoin Summer Music Festival, and privately for over 35 years.
True to its Historic Roots
Grace Note Farm, also known as the Benjamin Smith homestead farm c. 1730, is nestled in the northwest corner of Rhode Island adjacent to the George Washington Management area.
Activities in CT, MA, and RI are Near
Nearby activities include massage therapy for horse and rider, and private or group lessons in the outdoor ring. Mountain biking, hiking, swimming, fishing, canoeing, cross-country skiing are all permitted in the adjacent state park. Enjoy visits to Southwick Zoo (Mendon, Ma); Worcester Art Museum (Worcester, Ma); and the over thirty antique stores in Putnam, CT.
Recommended by the Blackstone Valley Tourism Council
Email: [email protected] or call 401-724-2200