"Music at the Farm" Concerts
Sunday, April 11th at 2 PM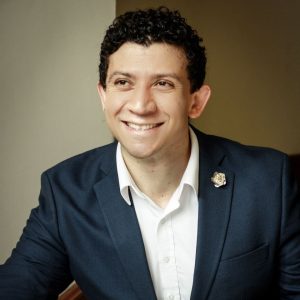 Columbian tenor David Rivera Bozon and pianist Leona Cheung, both artists in residence at the Music at the Farm concerts, will perform Sunday April 11th at 2PM. They will perform arias by Mozart, Flotow, Catan, Bizet, Verdi & Puccini, Neapolitan songs by Eduardo Di Capua and Broadway songs by Bernstein, Forrest, and Appell. These concerts are presented by Grace Note Farm and the Blackstone Valley Tourism Council. Complying with covid restrictions the audiences are small, spaced 6 feet apart. and asked to wear masks.
Tickets are $40 call 401-567-0354 for a reservation. 
Known as a truly versatile singer with an exceptional, robust, vibrant and mesmerizing voice, tenor David Rivera Bozon's captivating presence has charmed audiences internationally . He has sung  opera roles in Spain, France, Columbia, South America and the U. S. Mr. Rivera Bozon awards include  finalist in the Talents of the World Voice Competition, NY and the Bogota Philharmonic Orchestra and first prize in the Rhode Island's  Civic Chorale and Orchestra Competition and New England Conservatory's John Moriarty Presidential Scholarship in Boston. He will sing with the Central City Opera of Colorado this summer. He has recently performed with the Rhode Island Civic Chorale and Orchestra as winner of the gifted young voices competition and will perform in NYC at the Church of the Kinderhook, as well as New England Conservatory's production of Gianni Schicchi this Spring. He holds a M.M. degree inn vocal performance from NEC where he studied with Bradley Williams and a B.M. from the Conservatorio de la Universidad Nacional de Columbia where he studied with Maestra Angela Simbaqueba. Currently he is a finalist in the 2021 Canto Latino competition and has been invited to sing in Vienna Opera Academy this summer.
Pianist Leona Cheung, a native of Hong Kong, has a M.M. in collaborative piano from New England Conservatory and a B. M. in piano performance with honors from the Hong Kong Baptist University. As a specialist in vocal repertoire, she has participated in numerous master classes in the Summer Program Songfest in Los Angeles, was cooperative operatic coach/ accompanying at the Westminster Choir College, England and performed in the Toronto Summer Music Festival as a fellow. Ms Cheung has recorded with Cantoria Hong Kong and was featured on the website Half Moon Rising and Edition Peter CD. She performed here in the Music at the Farm 2018 series with soprano Catherina Psarakis.
May 9 Sunday 2PM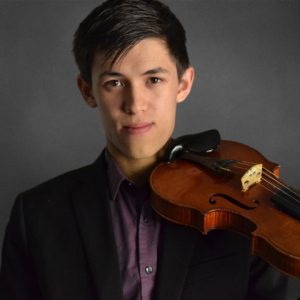 Artists in residence violinist David Bernat and pianist  Jiarong Li will perform Debussy, Strauss, Prokofiev, Sarasate and a Chinese work. Violinist David Bernat is a C.V Starr Doctoral Fellow at the Juilliard School, where he studies with Joseph Lin, and is a graduate of the New England Conservatory, where he studied with Soovin Kim. He was recently featured on the BBC Radio 3 program, In Tune, and at WQXR's Greene Space as part of Juilliard's annual ChamberFest. As soloist, David has performed concertos with the Ft. Dodge Symphony and Waterloo-Cedar Falls Symphony, and is a 3rd Prize winner of the 2020 World Bach Competition hosted by the Boulder Bach Festival and a semi-finalist of the 2018 Hudson Valley String Competition.
In past summers, David was a fellow at the Bowdoin International Music Festival, and has attended Tanglewood Music Center, where he was concertmaster of the TMC Orchestra and a member of the New Fromm Players, performing in masterclasses for artists such as Sarah Chang, Pamela Frank, Colin Carr, and members of the Juilliard, Borromeo and Brentano String Quartets, and worked with conductors including Andris Nelsons, Herbert Blomstedt, Ivan Fischer, Marin Alsop, Hugh Wolff, and Bramwell Tovey.  
David has had frequent opportunities to collaborate and perform music by some of the leading living composers, having worked closely with Thomas Ades, John Adams, John Harbison, Augusta Read Thomas, Fred Lerdahl, and George Walker. David continues to be committed to expanding community access to classical music, and has twice been a fellow of New England Conservatory's Community Performance and Partnerships program.
Chinese Pianist Jiarong Li enjoys sharing music with the community and believes music is a powerful language we all understand. She is currently pursuing her doctorate at Manhattan School of Music, where she studies with John Forconi. Jiarong holds a Master of Music from New England Conservatory, and a Bachelor of Music from Central Conservatory of Music in Beijing, where she was admitted with first place. Her former teachers includes Heasook Rhee, Pei-Shan Lee, Bruce Brubaker, and Xiang Zou.
She has won prizes at competitions including first prize in the Oxford Philomusica Piano Festival and Summer Academy Competition, the New England Conservatory Honors Competition, the International Music Competition-Best Schubert Performance, the Distinction Award of the Hong Kong-Asia Piano Open Competition, and was a finalist at New England Conservatory Piano Concerto Competition, semi-finalist at Foundation for Chinese Performing Arts International Concerto Competition, and a collaborative piano fellow at Bowdoin Music Festival.
Artists in Residence:
David Bernat, violin
David Rivera Bozon, tenor
Leona Cheung, piano
Jiarong Li, piano
Victor Main, guitar/composer
True to its Historic Roots
Grace Note Farm, also known as the Benjamin Smith homestead farm c. 1730, is nestled in the northwest corner of Rhode Island adjacent to the George Washington Management area.
Catering to Equestrians
Riders can enjoy over six hours of riding on wide, mostly sandy trails that connect to Connecticut and Massachusetts. Trails wind through a covered bridge, hemlock grove and pass picturesque lakes and streams. You can ride alone on the well marked trails, or join a guide. Over 25 miles are safe for carriages.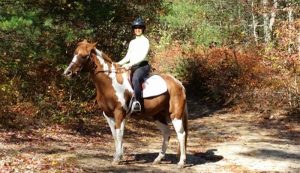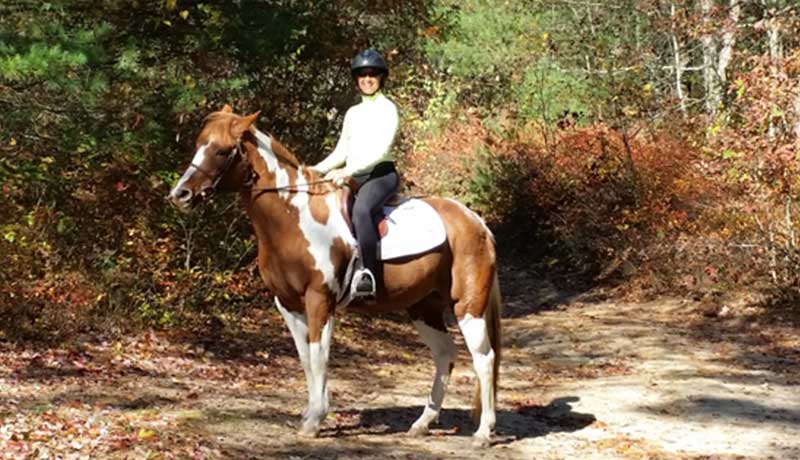 Guests bring their own horses and can stay one or more nights on their own or in groups of up to 8 people. The stalls are airy and there is plenty of turnout in the rolling pastures or corrals surrounding the farm. Grace Note Farm welcomes group rides, and offers breakfast or lunch. The farm hosts parties for horse enthusiasts.
Activities in CT, MA, and RI are Near
Nearby activities include massage therapy for horse and rider, and private or group lessons in the outdoor ring. Mountain biking, hiking, swimming, fishing, canoeing, cross-country skiing are all permitted in the adjacent state park. Enjoy visits to Southwick Zoo (Mendon, Ma); Worcester Art Museum (Worcester, Ma); and the over thirty antique stores in Putnam, CT.
Recommended by the Blackstone Valley Tourism Council
Email: bvtourism@aol.com or call 401-724-2200